Fight to Cure Childhood Cancer
Childhood Cancer Awareness 2021
September is Childhood Cancer Awareness month in the United States. Gold ribbons symbolize Childhood Cancer Awareness. This year the Dothan Fire Department is working to bring local attention to this devastating disease and to the families that it impacts. As a part of this local campaign, we are sponsoring a community-wide event on Saturday, August 28, 2021 at Westgate Park in Dothan that we have dubbed "Going for The Gold". The evening at the Park will be a fun time, packed with events, activities and entertainment for the entire family to kick-off a month long campaign to support the children and families affected by childhood cancer.
It is astonishing just how many families in our community this disease has impacted. Just in our Fire Department family, we have had two children battle cancer recently. Our goal is to not only raise awareness, but to provide support to all the families coping with childhood cancer. As we have supported our own fire department children, they have shared with us just how many other families need our support within our community
We are seeking sponsorship for this community-wide family fun and fitness day at Westgate Park. A trail run / walk (5k / 3.1 miles), "Corn Hole" Tournament, children's activities and local artists providing entertainment are all part of the evening's events. Your sponsorship is critical to the event's success.
T-shirt orders will be pre-paid this year. The order form below you will see the ability to use Venmo or Cash app. If using Venmo or Cash App please list your first and last name along with the amount of each size shirts you want in the comments. Please keep a copy of the order form to bring with you to pick up your shirts. To guarantee your shirt is ready by race day please have them submitted by August 6th at 5:00pm.
Our 5k run will be using the Westgate trail. Race Day registration and to pick up your race packets will be on soccer field directly across from Miracle Field from 3:00pm to 5:45pm. Online registration may be done at RaceEntry.com. Below is a registration form.
We always welcome and appreciate anyone who is willing to help sponsor this great cause. If you or your company is willing and able to help support this event and raise money for childhood cancer research below is a sponsorship form.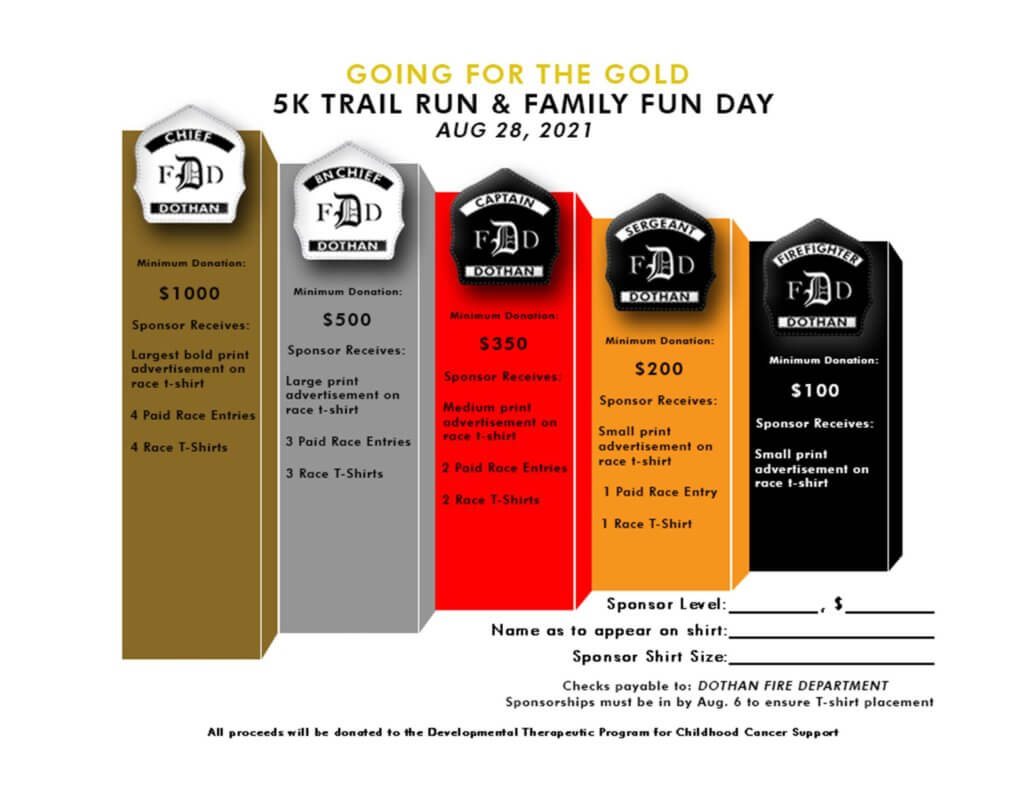 All Checks should be made out to Dothan Fire Department and mailed to 600 Columbia Hwy, Dothan, AL 36301. Attn: Mary Clark, Going for the Gold